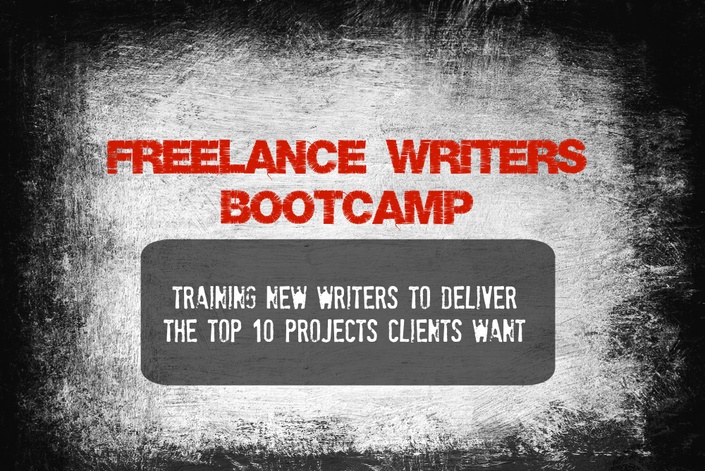 Freelance Writers Bootcamp
Now that you know how to get writing clients, here's how to actually DO the projects they're most likely to order. Get the tools and tricks my own firm uses.
Enroll in Course
Build Your Content Creation Business with Help from a Pro in Freelance Writers Bootcamp
* * Includes Access to the Working Writer, Happy Writer Course! * *
Once you know how to get clients, if you don't have a background in freelance writing for business, you're going to want to learn how to DO the projects your clients are most likely to ask you to write for them.
Sounds logical, right?
As I built my business, I learned on the fly – and it was scary. There's no more terrifying moment than when you deliver a writing project to a client knowing you're not completely sure you did it right… or that it's even close to what they wanted. It's not like there's someone right there with you letting you know you're headed in the right direction, after all.
There are dozens and dozens of types of writing projects your clients could ask you to create, and even after being in the business for ten years, we regularly get requests for projects we've never done. It's probably impossible to prepare for ALL of them! Plus, there's that whole "jack of all trades" thing.
At some point, you'll land on a niche – either industry-related or project-related, and that's when you'll find your business really takes off (and you make more money). Meanwhile, it's a smart idea to become proficient at the most commonly-ordered writing projects… and then to get really good at a few of them.
That's what Freelance Writers Bootcamp is all about. I'll share everything I know about how to pitch, price, plan, and do the ten most frequently ordered writing projects that my own firm does. You'll learn all you need to know to do it like we do – which is at the very least, a solid starting point.
Here are the projects we cover:
Website content
Blogging
Articles
Press releases
Newsletters
Email marketing messages
Ebooks and special reports
White papers
Case studies
Video scripts
Learn how to do these ten projects, and you'll have enough know-how to build a thriving writing business even if you never learn another type of project. Plus, you'll find it a whole lot easier to market your services, because you won't have that dueling set of voices going: "I hope I get the gig!" vs. "Oh no! What if I get the gig?!"
What do Bootcamp students say about the course?

"I'm an avid notetaker, and in both this and the Working Writer Happy Writer course, I've taken about 10-15 pages worth of handwritten notes from each. I believe that writing it down is the best way to learn it, and trust me -- I've learned a lot from each of these courses. I've been quoting it to my friends, telling my family about it, writing about it in my journal -- seriously. These courses have really really really motivated me to make something happen in my freelance writing career."
Andrew J. Stillman
"I finished Working Writer, Happy Writer, Bootcamp in July 2015. I didn't quite know what to expect, but I was very pleased with how the course turned out. Even though I only write part-time, I easily made enough to pay for the course (and then some!) within the first month or so of completion. There really is a market out there for these skills!
If you're on the fence, here's three of the things I found the most useful:
Instilling a Can-Do Attitude. Admittedly, I was terrified to try this. But from the beginning, Susan encourages you to just get out there and do it. Whether it's during the course, in the online forum, or even via email and personalized critiques, she is helpful and encouraging. She even shares some of her own embarrassing learning experiences encountered along the way. The goal is to get you comfortable, giving you the confidence you need to get started and not fear any mistakes you'll likely make along the way. And it works.
Useful Tools and Templates. She's been in the biz a long time, and she shares a lot of things that helped her optimize information gathering, hone proposals, and improve overall efficiency. This adds up to a system enabling you to maximize each and every hour, getting more done in less time. She also provides some general guidelines for how to price projects, even when you've never done one before. I find myself going back to reference materials and refresh my understanding of different projects on a regular basis. Very helpful when you're just getting started!
This Isn't a Writing Class. Susan's not going to cover "your vs. you're" and correct apostrophe usage- although she does sometimes post amusing memes on the topic in the forum. She's also not going to dictate a specific tone or style. What she does is provide solid guidance on the creation of about 10 different types of content, while developing your written voice. The result is the creation of powerful and effective content that sells. But if you're looking for English 101, move along.
Bottom line: if you think you're a decent writer, and you're new to the content creation space, you can benefit from Bootcamp. Speaking from experience, if you set aside just 1-2 of your weekends, you'll be up and running in no time. Less than that if you want to jump right in and start writing after you complete a single module. I highly recommend this course!
Jaimi Truhler
---
Whether you're looking for a way OUT of a soul-sucking "real job" so you can be your own boss, work from wherever you feel like working, and use your creative talents to earn a living... or you're an author looking for a way to get paid to write (to support you while you write your books), Bootcamp might be JUST what you're looking for right now.

Course Curriculum
Other Resources
Available in days
days after you enroll
Courses Included with Purchase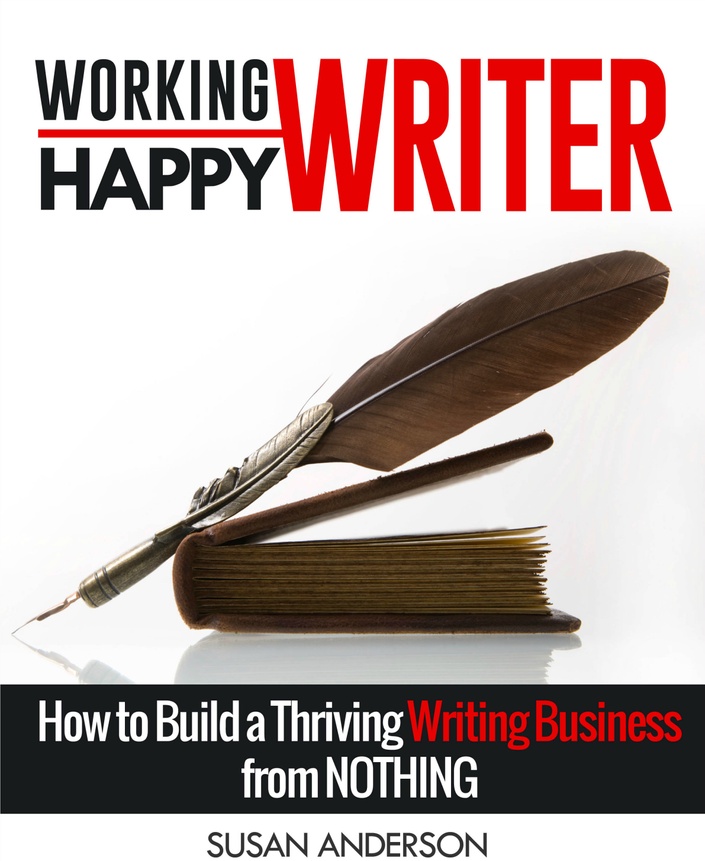 Working Writer, Happy Writer
How to Build a Thriving Writing Business from Nothing
Original Price: $47
What I'm sharing in Freelance Writers Bootcamp took me nearly a decade to create in my own writing firm. Believe me, it'll squash your learning curve flat and keep you from driving with one foot on the brake and the other on the gas (you know... like, YAY! CLIENTS!!!.... Oh NO, clients.)
Why? Because it's one thing to land projects - and quite another to know how to deliver what they want. Sometimes they can't even tell you exactly what they want. To be complete upfront with you, you could learn how to the ten projects we cover in Bootcamp on your own.
After all, that's what I did.
But it was stressful. I was never quite sure what I delivered was what a client expected to see. Plus, if there was a hard process (and I use the term 'process' loosely) to follow to create the project, I followed it. Needless pain and suffering!
Over the years, though, I developed better ways to get the necessary information from my clients. I developed proposal and invoice templates. I figured out what questions to ask myself during the writing process. Oh, and pricing! Having a process to follow to figure out what to charge was a huge stress-reliever.
All this and more is what you'll get to see and use as a Freelance Writers Bootcamp member.
PLUS there's a members-only Facebook group for Bootcamp members, so you can have some extra support and feedback when needed. Oh!!! Also, you can request my feedback when you create these ten projects on your own - and boy is it good to know you're on the right track (or, what you need to fix to get there).
Anyhow, hope you'll join us on the other side!
Oh yes, and there's a 30-day money back guarantee... so there's no risk to you.
Got Questions? Visit www.WorkingWriterHappyWriter.com
Your Instructor
Susan Anderson started Triumph Communications in 2005 upon realizing this Internet thing was here to stay and that there sure was a lot of horrid content already clogging it up. She started off as a solo writer, creating so much highly rated content for clients that she rose to the top spot on Guru.
That was enough to build some confidence and credibility, and she decided Triumph should serve more and better clients… and that she couldn't do it alone. Switching to an agency model made bigger wins possible—for the clients and the writers. Of course, now the hitch was finding great writers to add to the team.
Seemed like the next logical step was to create a course to show others who love to write how to get paid for their words. Two birds, one stone! Her You Write, They Pay book and course has trained hundreds of freelance writers how to build businesses of their own… and some of those students have become part of the Triumph team in the process.
Even though she's a bit of a hermit, she's enjoyed presenting online and in-person training on freelance writing as part of Eben Pagan's Traffic School and Ignition programs and Coffee Shop Millionaire. She was even flown to Fiji to teach there.
Susan splits her time between Huntsville, Alabama, and the Tri-Cities area of Eastern Tennessee. Mom to two young adults and a small ark's worth of animals, she counts walking on fire and breaking a wooden arrow with her throat as piece-of-cake accomplishments in comparison. If she's not writing, she's probably taking a long walk with the love of her life, trying to convince her chickens to weed the garden, or wiping drool off of her 1959 Volkswagen Beetle Ragtop, Miss Mabel (built by said love of her life).